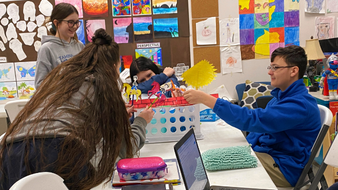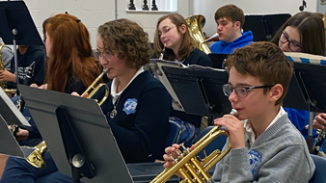 The Fine Arts Department of TVCS offers opportunities for students to be involved in music, art, graphic design, photography, journalism, and drama.
Our musical opportunities include an elementary and secondary curriculum featuring general musical education, elementary and high school chorus, beginning and high school band, elementary recorders, middle school ukeleles, and many other opportunities.
Our art program is weaved into the elementary and middle school curriculum one day a week, while high school students have the opportunity to take it as an elective up to 3 days per week, learning an appreciation for art and expressing their own God-given creativity through a variety of artistic mediums.
Our drama program offers a drama class to high schoolers and an extracurricular drama club for grades 6-12. The drama curriculum covers basic acting principles, improvisation, technical theater, theater history, special effects make-up, and more.
Music
With a rich heritage of excellence in fine arts, Teays Valley Christian School seeks to progressively advance students' musical and performance abilities, expand on their God-given creativity, and encourage that those gifts be used for the glory of God.
Opportunities Include:
Elementary Chorus
Elementary General Music
7th Grade Chorus
8th Grade Chorus
Middle School Ukeleles
High School Chorus
Beginning Band
High School Band
High School Praise Band
5th Grade Recorder Ensemble
Drum Ensembles
Visual Arts
Visual Art instruction is based on the understanding that God our creator has instilled in us creative qualities that should be used to bring Him glory.
Art is offered through a variety of methods, mediums, and technologies throughout the academic program (K-12). Students will experience information and training in many ways, including, but not limited to the following: basic elements of art, art history and appreciation, expressions of art, and many hands on opportunities to produce original works through a variety of artistic mediums.
Drama
God has endowed each individual with creative talents to be expressed in every arena of life relationships, personal enrichment, artistic growth, personal ministry, and career. This course is designed to help students explore and cultivate their unique, God-given talents and share them in a variety of settings. Training in the performing arts is essential to the educational experience of all students. Not only are students given an avenue to share their God-given talents and express themselves in a way that is as unique as the talents they possess, but training in the performing arts also improves five essential elements of personal development:
1. Awareness of God, self, and others
2. Discipline
3. Confidence
4. Creative/Critical problem-solving skills
5. Self-esteem
All students should have opportunities for early success in their creative endeavors in order to reach their fullest personal potential.
Students will explore a multitude of performing arts while cultivating their personal performing skills by exploring acting theory, voice development, character development, playwriting, play structure, improvisation, stage terminology, directing, and physical stagecraft and production.