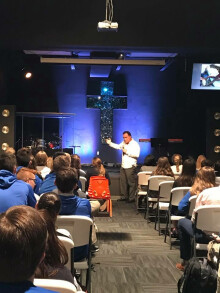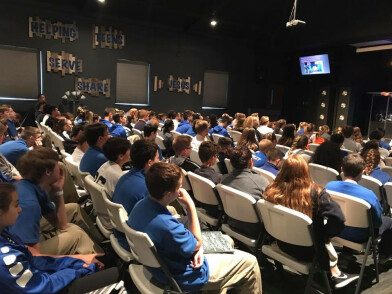 The TVCS Chapel program is the heartbeat of our school's spiritual life. Chapels provide an opportunity for our students of all ages to worship freely in a school environment. Many of our chapel services include a time of praise & worship followed by a teaching from one of our staff or a guest speaker. Continue reading below to see what our chapel programs are all about.
Elementary Chapel
Grades K-6 meet once a week in the commons area for chapel. Spiritual Emphasis week (held in the fall) is a solid week of chapels dedicated to spiritual growth and renewal. At the end of the week the students dress up as their favorite Bible character, parade to a local nursing home, and finish the day by enjoying foods common to those enjoyed by Jesus.
Guest speakers with local ministries are occasional guests, as well as alumni who have testimonies of God's faithfulness and theirs to Him. Skits and puppets are used to teach lessons involving practical applications of Biblical principles. Our praise and worship includes the singing of various songs and on special occasions, such as Christmas and Easter, movies are shown.
Weekly chapel themes include, but are not limited to the following:
Knowing Jesus Christ (John 1:1-14)

Growing in Wisdom In Our Christian Lives (Proverbs 4:4-7)

Respecting God (Revelation 15:4)

Believing God's Word (Hebrews 11:6)

Acting in Faith (Hebrews 11:1-3)

Loving Others (I Corinthians 13:1-13)

Meeting Needs of Others (Titus 3:14)

Making Wise Choices (Proverbs 2:1-5)

Determining To Do Right (Psalm 1:1-2)

Worshipping God (John 4:23-24)

Controlling Our Speech (James 3:2)

Obeying or Disobeying (2 Corinthians 10:4-6)

Depending on The Holy Spirit (John 16:13)

Trusting God's Word (Psalm 119:9-10)

Importance of Resisting Peer Pressure (Proverbs 4:14-15)

Living as a Christian Without Hypocrisy (I Samuel 16:7)
Secondary Chapel
Grades 7-12 meet together on a weekly basis. The general format includes praise and worship from our student led worship team, a message or panel, response, videos, testimonies, and other activities or special events.
Additional components of the secondary chapel program include a fall and spring spiritual emphasis week, senior led devotions, student prayer groups, student led chapels, and the annual fall retreat.
The messages are typically offered by local pastors, in-house staff, and occasionally, TVCS alumni. A general list of topics that are covered through the secondary chapel program include, but are not limited to the following:
The Great Commission

The Great Commandment

Missions

Character

Vision

Wisdom

The Essentials/Spiritual Disciplines

Work Ethic/Intellectual Development

Relationships

Dating

Social Networking

Purpose

Various lessons from scripture