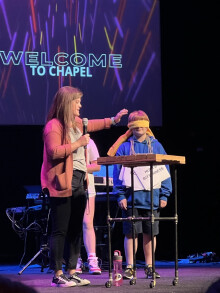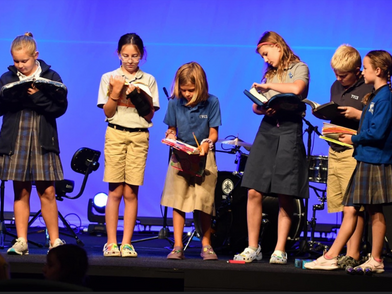 The TVCS Chapel program is the heartbeat of our school's spiritual life. Chapels provide an opportunity for our students of all ages to worship freely in a school environment. Many of our chapel services include a time of praise & worship followed by a teaching from one of our staff or a guest speaker. Continue reading below to see what our chapel programs are all about.
Elementary Chapel
Elementary chapels with our K-5 students occur weekly on Wednesday mornings.
We believe the family is the primary faith influence in the lives of children. The mission of our chapels is to partner with families in nurturing kids' relationships with God, others, and the world around them through these times of worship.
There is always an opportunity for students to not just attend, but to participate. We do that so students learn to not just be hearers of the Word, but doers as well. Our time of worship involves practical applications of Biblical principles.
The theme for the 2022-2023 school year is "Magnify", with Psalm 69:30 as our verse. We are taking a look at how we can magnify God in our lives, and how we can be less and He can be greater. It is always great to see our students engaged in worship as we dig into the Word together.
Secondary Chapel
Grades 6-12 meet together on a weekly basis. The general format includes praise and worship from our student-led worship team, a message or panel, response, videos, testimonies, and other activities or special events.
Additional components of the secondary chapel include the Dens program and the annual fall retreat. Dens give students an opportunity to hear from local church leaders and engage with secondary students across grade levels in healthy spiritual discussion in an effort to disciple more effectively.
The messages are typically offered by local pastors, in-house staff, and occasionally, TVCS alumni. A general list of topics that are covered through the secondary chapel program include, but are not limited to the following:
The Great Commission

The Great Commandment

Missions

Character

Vision

Wisdom

The Essentials/Spiritual Disciplines

Work Ethic/Intellectual Development

Relationships

Dating

Social Networking

Purpose

Various lessons from scripture